Glitch Coffee Tokyo
Glitch Coffee Tokyo
Order Deadline
Place minimum 10Kg order and receive within 7 Working Days.
Do check with us for the current available Single Origins.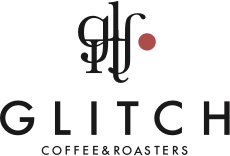 TO PROVIDE A CUP OF VALUE FROM JAPAN HERITAGE COFFEE TOWN.
We provide a cup of Value by strictly focusing on not only roasting and brewing, but also cultivation, purification and farm.
Our coffee expresses the character of single origin bean by super light roasting and V60 pour over.
As matter of fact, Japanese coffee culture has a long history of pour over serving and we would like to show great respect to the craftmanship.
GLITCH is probably No.1 light roasting master in Japan with innovative roasting theory.
The coffee at Glitch is roasted light. They offer several varieties in shop, but stick to single origin coffees rather than blends of beans. Depending on the origin of the coffee, flavors like cherry, orange juice, black tea, and even tomato juice are present. The preferred brewing method is pour-over prepared via glass Hario V-60s. Espresso too is available, and is made on a La Marzocco Linea PB espresso machine. It's clear that the roast style is influenced by countries like Norway and Australia, but owner Suzuki Kiyokazu says he wants to promote Japan's own coffee culture.